Conference Tours are hosted by local museums and organizations, providing an additional opportunity to explore and get inspired.
Pre-registration is highly recommended as space is limited.
---
Sculpture Milwaukee Trolley Tour
---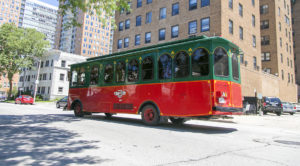 Reserve your seat on an exclusive behind-the-scenes trolley tour of Sculpture Milwaukee with Chief Curator, Marilu Knode, who will explain the genesis of Sculpture Milwaukee, the complex mix of public and private partnerships that govern the organization, the community partners and experts that execute the functions of a museum (curatorial, shipping, installation, security) and the community partners who deepen the public's experience of the works through educational programs. Sprawling more than a mile of urban exhibition space and featuring over 20 regional and international artists, there's something to see for everyone! Trolley pick-up begins at the front doors of the Milwaukee Art Museum, and drop-off can occur at the evening's host space.
Location: Milwaukee Art Museum, 700 N Art Museum Dr, Milwaukee
Capacity: 25
Cost: $10
---
Pre-Conference Tour: Insider's Tour:  Guardian Fine Art Services & The Warehouse
---
Visit Guardian Fine Art Services for a behind the scenes look at Wisconsin's only fine art service and storage facility.  Hear how Jan Serr and John Shannon purpose renovated a 1924 brick warehouse with the latest technology in climate control and security features for museum-quality storage.  Learn about art handling and transportation services, packing and crating, and ideal storage methods. Visitors are also invited to view a William Kentridge exhibition in The Warehouse, an art museum located within Guardian.  The Warehouse mounts curated exhibitions from the permanent collection of Serr and Shannon and many of the works in the Kentridge will be exhibited in the United States for the first time. Parking is available in the lot on the east side of the building.
Guardian is a CHUBB preferred service provider for fine art storage and TSA certified.
Location: 1635 W. St. Paul Avenue, Milwaukee
Capacity: 20
Cost: $10
---
Pre-Conference Tour: Marquette University's Artistic and Cultural Treasures
---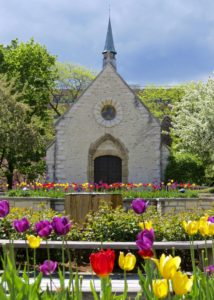 Explore the artistic and cultural treasures on Marquette University's beautiful campus through guided tours of the St. Joan of Arc Chapel, the J.R.R. Tolkien Collection at Marquette's Raynor Memorial Libraries, and the Haggerty Museum of Art. Built around 1420 in France's Rhone Valley, the Chapel was preserved in the 1920s by architect and historian Jacques Couelle and reconstructed in 1964 at Marquette—where it has been a beloved and actively used center of campus life ever since. Marquette's J.R.R. Tolkien collection contains the original manuscripts and multiple working drafts for three of the author's most celebrated books: The Hobbit, The Lord of the Rings, and Farmer Giles of Ham. Our tour will end over wine and cheese at the Haggerty Museum of Art, which will be exhibiting The Greater Milwaukee Foundation's Mary L. Nohl Fund Fellowships for Individual Artists 2019 exhibition—featuring work by two established and three emerging Milwaukee-area contemporary artists.
Location: Meet at Haggerty Museum of Art, Marquette University campus, 1234 West Tory Hill Street
Milwaukee, WI 53233
Capacity: 25
Cost: $10