DEADLINES
***Due to Covid-19, we will be delaying the 2020 AMM-WFM Joint Conference. Dates and times below will be updated as soon as possible.
What are registration deadlines?
Early Bird Registration: February 14 – May 1, 2020
Online Pre-Registration: May 2 – July 6, 2020
Onsite Registration: July 22-25, 2020
---
RATES
What conference rates do you offer?
This year we are offering different conference packages:
Sessions Only

–

includes onsite breakout sessions, mini-workshops, general sessions and speakers and breaks.

Sessions + Events Combo

–

includes Sessions Only activities plus the Thursday and Friday lunches, opening event ticket, Thursday night event, and closing event ticket.

*The Leadership Breakfast, pre-conference workshops and tours, and any other ticketed events must be purchased separately.
Single Day

– includes the same items as the base conference for the day that you plan to attend.

A la carte

– Pre-Conference workshops/activities, evening events, and the Leadership Breakfast requires an additional ticket which can be purchased a la carte during registration.
Do you offer student rates?
Yes. Student rates are offered to our AMM Student Members. You can register for an AMM student membership for $30. Student rates can be found on our Registration page and apply to all registration periods.
Do you offer a special rate for session, workshop and poster presenters?
Session presenters may register at the early bird rate through May 1, 2020. After that date, contact us to learn more about registering at the same rate when prices go up for general attendees.
Can I attend just a workshop or event?
A "Workshop Only" option is available through the online registration form. Tickets may be made available to evening events following the close of online registration, if space is available.
Do you have volunteer opportunities?
We do! Volunteer opportunities range from tote bag stuffers to session and event greeters. Volunteers earn reduced or free registration by donating their time at the conference. If you'd like to volunteer, contact us at admin@midwestmuseums.org.
How do I register multiple people?
Log in to your registration, and click "Add Profile" to add an attendee to your group. Note: Each attendee requires a separate profile and payment.
---
HOW TO USE THE FORM
Can I register more than one person at one time?
We no longer offer group registration accounts. You will need to register one person at a time by completing a separate form for each attendee. It's best to set each person up with their own account using their email and preferred password, so that they can access their registration details or make any necessary changes later. Plus, this allows them to receive all of the important communications regarding their registration.
How do I know what I have ordered?
All program selections and discounts should be reflected in your Dashboard. Log into your registration using your email address and password. Go to your Dashboard and scroll down. Note that you can remove items from your order on the Dashboard by clicking "remove." Items removed can only be added by navigating to the "Program Selection" page and manually adding them once again. Contact us with questions.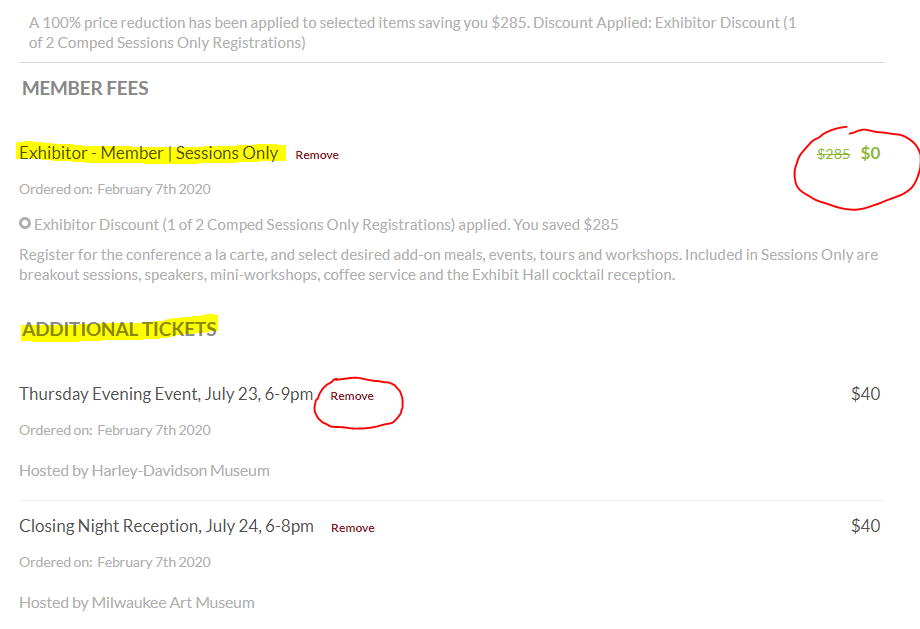 I received a notification that my registration is incomplete. What do I do?
You received that notice if you a) haven't paid your registration or b) haven't completed all of the forms. Log into your registration using your email address and password. Go to your dashboard and scroll down to "Application Status." From here, you can navigate to the form page that is incomplete (marked with a red circle) or click the "complete my application now" button. See below.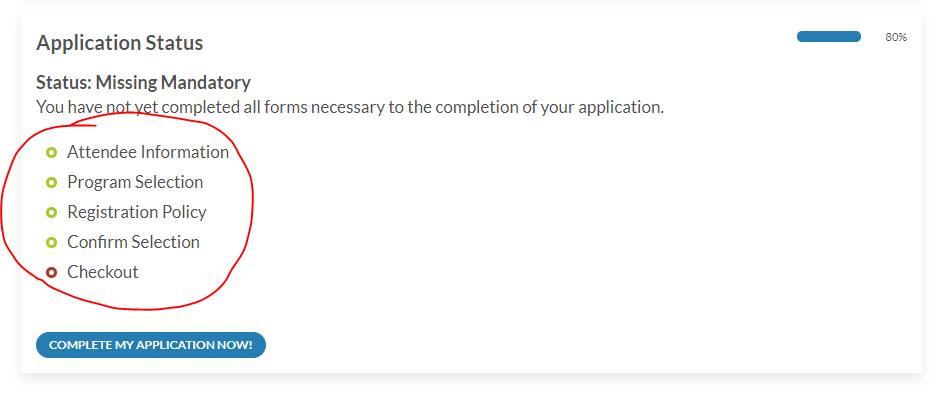 ---
PAYMENTS
Can I purchase extra event tickets for friends/family?
Yes, you may choose to purchase more than one event ticket during registration. If you are purchasing a ticket for another conference attendee, please add the ticket to their registration. This helps our organizers keep track of and communicate with individuals attending each event.
Can I pay for our registrations by check?
Yes. On the "checkout" payment processing page, there are three options – credit card, e-check and manual check. Click the link for "manual check" on the upper right corner of the form to obtain manual check payment instructions.
What is an e-check?
An e-check is an electronic or digital version of a paper check. Like a paper check, an e-check requires a routing number, bank account number, and the name on the bank account.
Can I pay for registrations with a single credit card or e-check transaction?
No. Each attendee requires a separate profile and payment. You may, however, pay for all attendees with a single manual check if you choose that option.
Can I modify my registration after I have paid?
Yes. On the main page of the registration site, click "Log into my registration". From your profile, you can make changes to your initial registration.
Where can I access receipts for my registration?
You should have received an email from info@midwestmuseums.org with your payment details. You may need to check your spam filter. If you cannot find it, you should be able to access payment details in the Dashboard of your registration account. Log in using your email address and password, then click Dashboard. Scroll down to the "Balance Due" section and click "view payments."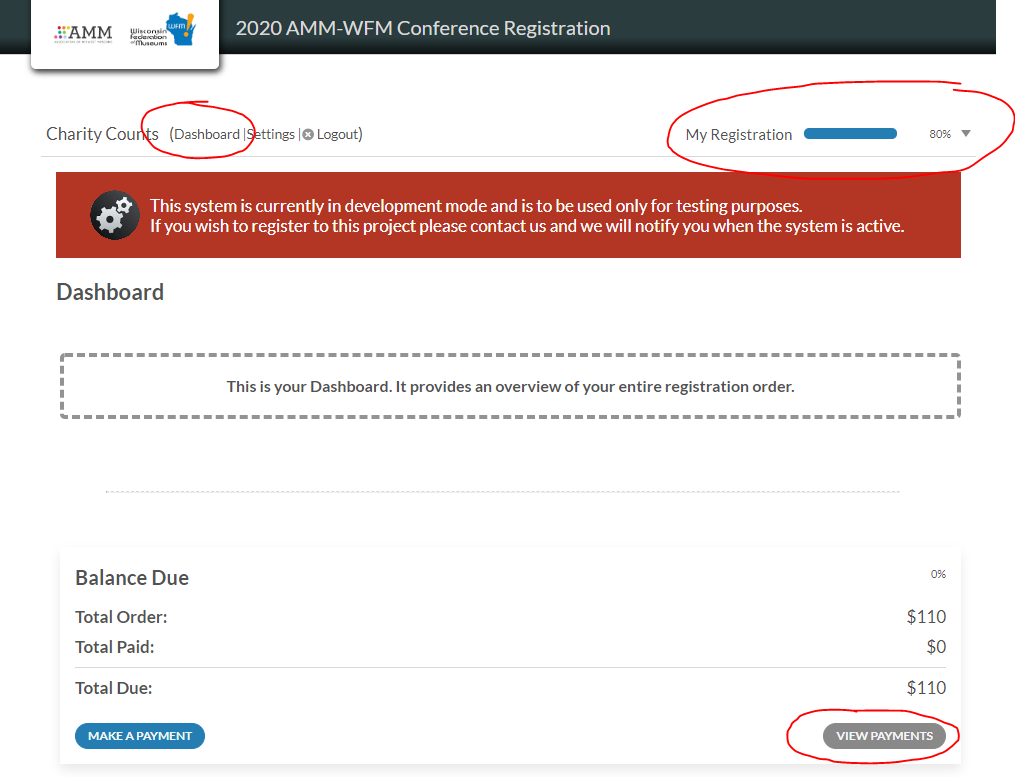 ---
CANCELLATION
I can no longer attend. Can I transfer my registration to my colleague?
Yes. Notify AMM at admin@midwestmuseums.org to request a registration transfer.
Do you have a cancellation policy?
All requests for refunds must be submitted in writing to AMM at admin@midwestmuseums.org. Full refund, less a $25 processing fee, will be granted for requests made by May 1, 2020. Requests between May 1-July 1, 2020 will receive a 50% refund. No refunds will be granted for requests made after July 1, 2020. Refunds will be processed as soon as possible before or after the conference. Registrations paid with a credit card that are canceled more than 30 days after purchase will be refunded by check as soon as possible before or after the conference.
---
PRIVACY
What is your privacy policy?
You can learn more about AMM's website privacy policy here, or read our third party registration service provider's policy here.
What is your photography and video policy?
By registering for and attending the 2020 Joint Conference, you grant the Association of Midwest Museums (AMM), Wisconsin Federation of Museums (WFM), and their authorized representatives permission to film, photograph, or otherwise record your participation in the event. You further agree that such images, photographs, and recordings may be used by AMM and WFM without your prior approval in any form and for any lawful purpose including, without limitation, promoting AMM or WFM. Such use will not entitle you to any credit or compensation. You release AMM and WFM, their officers, and employees from any liability connected with the use of any image, photograph, or recording taken during the 2020 Joint Conference.