Beeline + Blue, the largest graphics provider in Iowa, has proven themselves as leaders and innovators in the field of architectural and environmental graphics, and we are beyond excited to have them as both a sponsor and exhibitor for our 2017 conference!
We want to take you behind the scenes at our newest member's business to learn more about who they are and what they do!
The company got their start in 1958 when Clyde and Beth Ainsworth took over Des Moines Blueprint, turning it from a humble operation to a profitable business. By the 1980s, the Ainsworths handed over their successful business to their son Leonard Ainsworth.
Leonard, along with Steven Strooh, went on to found Beeline Color Center in 1994. Beeline Color Center soon became an industry leader in its own right, so it made sense when the two businesses merged together. Now, Beeline + Blue offers its clients the best of its parent businesses, providing a diverse line of services in wide and narrow format printing, digital color, fulfillment, and printers for the construction industry.
We had the opportunity to ask Beeline + Blue a few questions:
Tell us about the name Beeline + Blue. What's the inspiration?
Our name, Beeline and Blue, is the convergence of history and vision. We wanted to differentiate between the blueprint division and the fledgling color graphics work we started 1994. At first this was "Beeline Color Center", but in 2000 we merged the two divisions into one brand called "Beeline + Blue". We chose the name, to strengthen our image of excellence in quality and service, both in our historic roots serving the architectural, engineering and construction sector, as well as industry-leading large format craftsmanship.
Fun fact:  "Beeline" was chosen as it characterized their vision of providing large format color services in the manner of the industrious honey bee, producing high quality products, quickly and efficiently.
How many people work in your shop?
28 Full-time staff
Can you tell us about the coolest project you've ever worked on and what made it exciting/unique?
The trailer interior we printed and installed for the Iowa Corn Producers. Our team consulted on how the various aspects of production and installation could be integrated successfully into a durable, attractive and functional mobile exhibit. It stretched our creativity as well as our production and installation skills, because a variety of display systems were incorporated in the exhibit. Challenges in production and installation included extensive construction of fittings, lighting, creating access doors, and applying wall covering to the ceiling of the trailer-bringing to mind how Michelangelo painted the ceiling of the Sistine Chapel. The first outing after this was completed (in a parking lot in the middle of summer) was at the famous Iowa State Fair and later at a NASCAR race track in Newton, Iowa. It is still in use and has been a tremendously successful exhibit.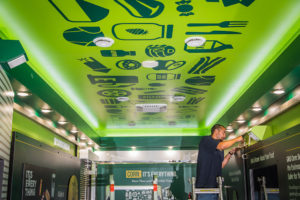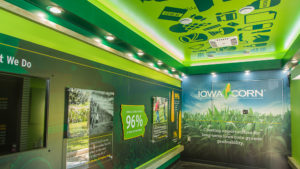 What do you like most about working with museums – whether it's on exhibits, reproductions or scanning services?
Interacting with historic artifacts, photos and clippings is a rare privilege for our staff. We all have visual communication backgrounds and are drawn to the intrinsic value of these unique pieces of history. For over twenty years we have worked with the State Historical Museum of Iowa and digitized and reproduced countless items. Our team's understanding of the value is a comfort to the curators and exhibit coordinators at the museums who often have to leave irreplaceable items in our care for scanning. Our 42×60 flatbed scanner is in its own room and is secure from accidental damage, as is some of the priceless art works or historic editions of books that we are entrusted to scan and digitize. Knowing we are playing a conservation role by replicating or digitizing fragile or precious cultural heritage artifacts gives our efforts extra significance.
Are there any fun facts about your company?
-We are in the midst of transition to our third generation of ownership. Like his father before him, Leonard Ainsworth is now ready to transition the operation to his son, Trent Ainsworth.
-On staff we have a university professor, a pastor, a conference speaker, a stock car driver, a competition fisherman, a body builder, a drummer for a band, a model, a PHD, a state champion high school wrestler and a Master Gardener.
-Since 2002 we have produced a quarterly mega graphic four stories tall that is applied to exterior glass on a Meredith Corporation office building located in the Des Moines Western Gateway.
---
Want to see more of what Beeline + Blue has to offer?
–Check out what Michael Morain,Communications Manager at the State Historical Society of Iowa, has to say about the benefits of relying on Beeline and Blue:
–Come to our Thursday evening conference event and watch demonstrations of Beeline + Blue's cutting edge rare book scanning technology while enjoying jazz and refreshments at the beautiful Salisbury House.
Art & All That Jazz: Built on the Foundation of the Roaring 20s
Presented by Beeline + Blue
Thursday, July 13
6:30 p.m. – 9:00 p.m.
–And don't forget to stop by Booth #4 and say hi to the staff of Beeline + Blue!