John Goodsoon, networking activities coordinator for the 2023 AMM & AIM Joint Conference in Indianapolis, offers his advice for seeking out new connections during the virtual and in-person events – at a pace that's right for you.
---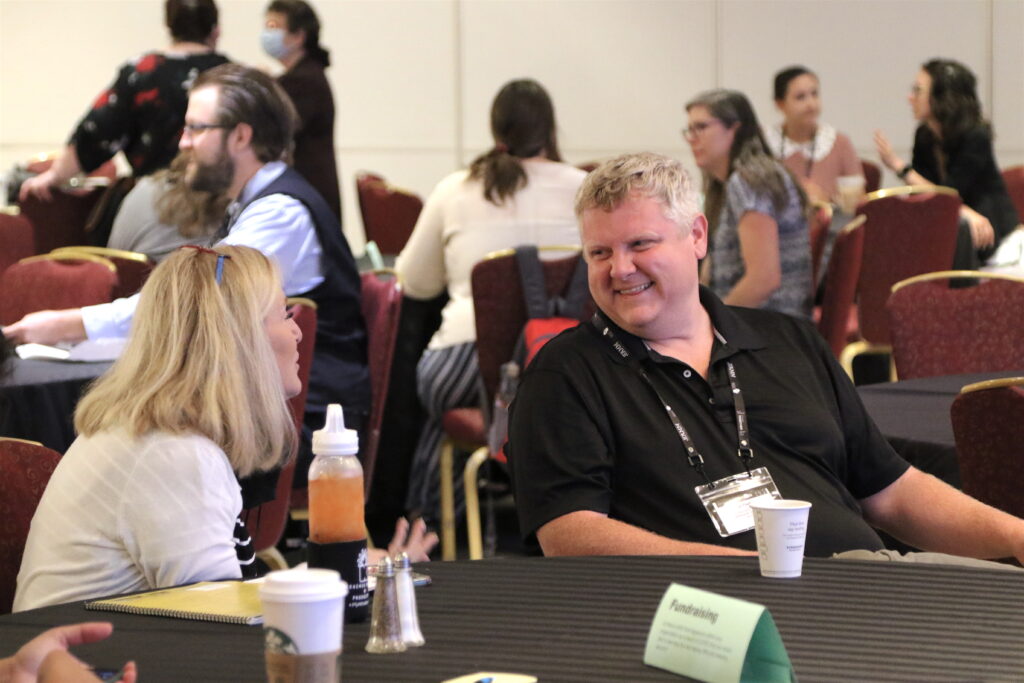 Be Intentional
Spend some time before the conference thinking about what you hope to get out of your conference experience. Is it to build your network? Is it to learn about new trends? Is it to seek solutions to a current challenge? Or is it to simply have fun being around other awesome museum people?
Build your itinerary ahead of time and you will likely find your connections attending the same things.
Play the Long Game
Think about making connections like a 5-course meal instead of fast food. Building genuine and meaningful connections take time and energy so focus on depth over breadth. Tip: You can build a great conversation simply by replying to every response with "Oh, tell me more!" Connecting on social media will help you continue the conversation beyond the conference too!
Linked here is another recent blog post that offers advice for a three-course conversation.
People First
Don't feel like you need to sell yourself like a product. Instead focus, first, on the human in front of you and your shared community instead of just business. We are people first and the network you build is framed on those genuine human connections. It takes being vulnerable, so don't be afraid to put yourself out there and push your comfort zone.
Be a Sponge
Try to experience as many events, exhibitors, workshops, networking sessions, shared meals, coffee breaks, and extracurricular events as you feel comfortable attending. You never know what you might pick up! Be sure to wring out and reboot yourself too though (and frequently)!
To Thine Own Self Be True
Being your unique, awesome, and genuine self in all of these connections is essential. Not everyone loves talking to people, some folks hate texting, some folks need smaller crowds, some thrive in a party. While you want to push your comfort zones, you will not likely build sustainable relationships by being someone you are not. There are many different paths to connect with people: small informal conversations at the coffee bar, pre-conference outings, after-hours events, social media, during games, or saying "hi" to your neighbor at a session. Try what works for you – and be sure to have fun!