This year, AMM is harnessing the storytelling powers of Chicago-based Teamworks Media to document and share all that's happening at the conference, plus learn more about the issues facings museums past, present and future. In this feature post, you'll learn more about the team at Teamworks Media, our Official Conference Storytellers, and how to find them during the conference.
---
This graphic lives on one of the walls in our Chicago office: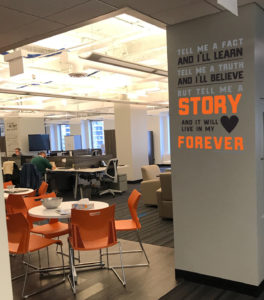 It's our mantra. We believe persuasive, quality storytelling targeted at, and tailored for, the appropriate audience inspires action.  At its root, marketing is really storytelling.  So when the opportunity presented itself to become the Official Conference Storyteller for the AMM-IAM 2018 Conference in Chicago, we jumped in with both feet.
---
First things first, just what is an Official Conference Storyteller?
A) Brand storytellers from TeamWorks Media who'll be flexing their creative muscles as they support AMM's network by documenting and sharing all the fun things happening at the conference
B) Stunningly good-looking people (except for one of us)
C) Really fun folks with fancypants press passes who want you to tell them some stories
D) All of the above
(Answer is D, though B is certainly up for debate!)
---
What are you folks doing at AMM?
We are doing two things:
We are filming conference attendees around particular topics and collecting stories to share on AMM's social media channels during the conference. So be on the lookout for camera crews and exciting content about where museums have been, where they are and where they're going.
Holding 10-minute lightning consult sessions with attendees off-camera. We'll have a former ESPN producer, a Hollywood screenwriter and loads of social pros ready to give away their smarts!  (To set one up in advance, please email katie@teamworksmedia.com.)
---
We'll be publishing daily wraps for AMM during the conference, and we want you to be the stars. Here's what we hope to capture:
Presentations that shocked or inspired you (We hear there are lots this year that could!)
Your perspective on the challenges facing the industry or your vision for the future
A standing ovation for one of the cool movers-and-shakers speaking at the Flash Talks
Your favorite quotes #overheard in sessions
---
What a lightning consult session might cover:
How you're telling your institution's stories of the past, present and future
A few easy methods for connecting your museum to trending topics
A few easy methods for creating a content calendar (MLK Day comes every year!)
How digital could help augment your on-site efforts
How to take one story and recut it for different audiences and outlets
Best practices from this industry and others
How to up your user-generated content game
---
How do you find us?
Look for the stunningly good looking (except for one of us) folks in these fly t-shirts: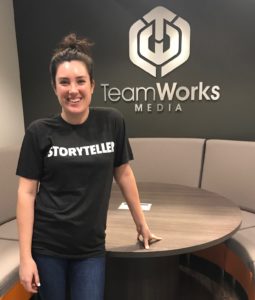 Or, you can visit us in booth #404, where you're likely to see our mantra on display in person.