CULINAIRE International, evening event sponsor and official caterer of American Swedish Institute, has a trick or two up their sleeves to surprise and delight visitors during TRANSFORM: Experience the Unexpected Social Night Out at ASI on July 28. One such treat is the signature cocktail for the evening called "Celestial Colors." We got the inside scoop on how this magical drink comes to be!
First, the drink is a delicious mix of fine spirits and a special ingredient. Then they add a little lemon to create a colorful reaction. It's comparable to watching your favorite animated villains mix a potion for a spell (tah-dah!) or watching your mood ring change colors (Oooooo!). 
The best part is that it is tasty and entertaining – plus, it won't reveal your mood to colleagues or transform you into an old peddler woman!
The secret: Butterfly Pea Flower.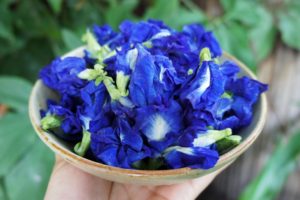 The science: This Thai flower changes color depending on the pH of the ingredient it is mixed with. So, add lemon and viola! A transformation takes place right before your eyes.
**Don't worry – the team from CULINAIRE will use an extract. You don't have to worry about eating petals!
---
The drink is tasty and a fun experiment. Want to try it at home? Here's the recipe: 
Ingredients and measurements:
Blume Marillen Apricot Eau-de-Vie (Apricot Brandy) -.25 oz
Far North Solveig Gin (Distilled rye Gin)- 1 oz
B'lure Flower Extract (Butterfly pea flower) -1 dropper
Lemon Juice -.50 oz
Simple Syrup -.50 oz
Peychaud's Aromatic Bitters- 1 dash
Soda Water- topped
Instructions:
In a rocks glass add 1 dropper of the b'lure flower extract, after adding  fill glass with ice
Continue to build in glass with: 1 oz of the gin, .50 oz of simple syrup, .25 oz apricot brandy & 1 dash of bitters
IMPORTANT (do not add lemon juice yet)
once you have your first 5 ingredients in the glass, top with soda water, leave a tiny bit of room at the top to add lemon at the end
Present the cocktail to guest, add .50 oz lemon juice & 2 small black bev straws, watch the magic happen. Stir and watch it TRANSFORM!