What an amazing year!
It's official! The Association of Midwest Museums and Michigan Museums Association (MMA) 2019 Joint Conference was a success. With 600+ attendees, 56 sessions and workshops, 62 volunteers, 30 sponsors, 34 exhibitors and quite possibly our best speaker line-up ever, it's no wonder that the conference was bursting with energy and excitement!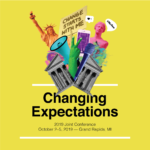 Here are a few things we loved about this year's conference:
Seeing art everywhere at GVSU's Richard M. DeVos Center and their library's robotic retrieval system during the opening reception
Listening to David Pilgrim share how the Jim Crow Museum is changing expectations (and people) and teaching tolerance, with a collection containing mostly objects of intolerance
All of the beautiful, colorful wayfinding signs and floor graphics created by local company, CorpColor
Being walking distance from so many museums, including the Grand Rapids Art Museum and the Gerald Ford Presidential Museum
Nina Simon's brilliant keynote presentation, which we heard everyone quoting all. day. long.
Meeting a tenrec and other interesting animals from John Ball Zoo
Lots of buzz about breakout sessions like "How to Advocate for Your Career at Every Stage" and "Finding Our Voice: Exhibiting Trauma and Healing"
Getting to explore the public museum school, see the Toys! exhibit and watch Dark Side: The Light Show featuring the music of Pink Floyd during the closing event at Grand Rapids Public Museum
Spending the last day of the conference (on a gorgeous fall day no less) at a local gem, Frederik Meijer Gardens & Sculpture Park!
To learn more about all of the happenings in Grand Rapids, explore the conference program and take a look at the great photos of the conference below. (Photos courtesy of our talented friends at Piggyback App in Indianapolis and social media ambassadors.)
---
#ChangingExpectations 2019 Photo Gallery