You love art. You have a passion for history. Maybe you work at a museum and you are seeking inspiration – potentially loans – for a future exhibit. You take to the internet, reading up on current exhibitions, dig through an online collection or two, search traveling exhibit databases, and then start dreaming up a research trip.
Maybe you'll visit The Louvre in Paris to see works by Sir Anthony Van Dyck; visit The British Library in London to see a Kelmscott Chaucer; call at the National Gallery, London, to find paintings by Sir Thomas Lawrence. Your trip takes you back to the U.S. to investigate the National Gallery of Art in Washington, DC for some lovely George Romneys. While you are there, you invest half of your day at the Library of Congress to get a glimpse of Abraham Lincoln Papers.
Perhaps you'll drift up and down the East Coast to the Whitney in New York or Museum of Fine Arts, Boston to find works by Joseph Stella; check out the Bourdelle sculptures at MOMA or Alexander Archipenko at the Guggenheim; and stare longingly at 16th century tapestries at The Met. Your trip isn't complete without a trip to the J. Paul Getty Museum in LA, where you see works by artist Laurence Alma-Tadema and Honoré "The Michelangelo of Caricature" Daumier.
…or, on second thought, you visit Salisbury House in Des Moines and see them all in one place.
---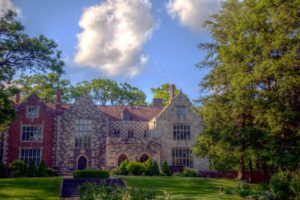 Salisbury House in Des Moines, Iowa, ranks among the great 20th-century historic house museums in America.
Their incredible collection of art, sculpture, fine furnishings, and rare books and documents were acquired by Salisbury House's original occupants, Carl and Edith Weeks.
Carl Weeks once wrote, "If you dream it, you can build it."  He and his wife Edith set out to do just that.  During a 1921 visit to Salisbury, England, the Weekses encountered the Kings House, a fifteenth-century manor. They knew immediately they had found the inspiration for their Des Moines home.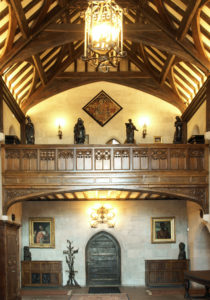 The Weeks family built Salisbury House during the 1920s and remained in their home until the 1950s. At this point, the Iowa State Education Association purchased the property to use as their organization's headquarters. In 1993, the Salisbury House Foundation was formed with the aim of preserving the property and its collections for future generations, and Salisbury House opened as a museum in the late 1990s.
---
Let us take you there! During the AMM-IMA 2017 Conference, Salisbury House will host the July 13th evening event. Attendees will be able to explore this English manor style home and spot treasures from the collection housed within it.  Watch for more details as the conference approaches!
For more information, visit salisburyhouse.org and our blog at salisburyhouseandgardens.com.